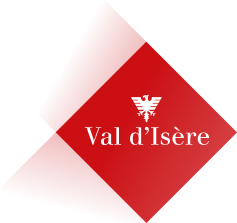 Val d'Isère Tourist Office
Tourism institutions,
Tourist Information Office
in Val-d'Isère
Located in the main avenue, at the second roundabout, place Jacques Mouflier, Val d'Isere tourist office welcomes you all year round to answer your questions and advise you during your stay (activities, entertainment, restaurants, accommodation... )

Opening hours: every day from 8:30 am to 7:30 pm.

For professional request: communication, web, press, accounts, human resources, animation and promotion department are at your service.

Hope to see you soon !
Environment

Mountain location

Ski resort

Spoken languages
Activities

Boules
Cycle sports
Target sports
Ball sports
Climbing sports
Various sports
Pedestrian sports
Archery
Beach volley

Golf
Rugby
Tennis
Orientation race
Electric-assisted mountain bike
Slackline
Biathlon by foot / MTB / Rollerski
Ultimate

Equipment

Services

Pets welcome
Shop
Wi-fi
Tourist brochures

Tourist information
Online shop
Tickets for events
From

January 1, 2023




until

April 30, 2023

From

May 1, 2023




until

June 4, 2023

From

June 5, 2023




until

July 2, 2023

From

July 3, 2023




until

August 31, 2023

From

September 1, 2023




until

September 3, 2023

From

September 4, 2023




until

September 30, 2023

From

October 1, 2023




until

November 25, 2023

From

November 26, 2023




until

April 30, 2024
Tuesday

8:30 AM - 7:30 PM

Wednesday

8:30 AM - 7:30 PM

Thursday

8:30 AM - 7:30 PM

Saturday

8:30 AM - 7:30 PM
Monday

9:00 AM - 12:00 PM

2:00 PM - 6:00 PM

Tuesday

9:00 AM - 12:00 PM

2:00 PM - 6:00 PM

Wednesday

9:00 AM - 12:00 PM

2:00 PM - 6:00 PM

Thursday

9:00 AM - 12:00 PM

2:00 PM - 6:00 PM

Friday

9:00 AM - 12:00 PM

2:00 PM - 6:00 PM
Monday

9:00 AM - 12:00 PM

2:00 PM - 6:00 PM

Tuesday

9:00 AM - 12:00 PM

2:00 PM - 6:00 PM

Wednesday

9:00 AM - 12:00 PM

2:00 PM - 6:00 PM

Thursday

9:00 AM - 12:00 PM

2:00 PM - 6:00 PM

Friday

9:00 AM - 12:00 PM

2:00 PM - 6:00 PM

Saturday

9:00 AM - 12:00 PM

2:00 PM - 6:00 PM

Sunday

9:00 AM - 12:00 PM

2:00 PM - 6:00 PM
Tuesday

8:30 AM - 7:30 PM

Wednesday

8:30 AM - 7:30 PM

Thursday

8:30 AM - 7:30 PM

Saturday

8:30 AM - 7:30 PM
Monday

9:00 AM - 12:00 PM

2:00 PM - 6:00 PM

Tuesday

9:00 AM - 12:00 PM

2:00 PM - 6:00 PM

Wednesday

9:00 AM - 12:00 PM

2:00 PM - 6:00 PM

Thursday

9:00 AM - 12:00 PM

2:00 PM - 6:00 PM

Friday

9:00 AM - 12:00 PM

2:00 PM - 6:00 PM

Saturday

9:00 AM - 12:00 PM

2:00 PM - 6:00 PM

Sunday

9:00 AM - 12:00 PM

2:00 PM - 6:00 PM
Monday

9:00 AM - 12:00 PM

2:00 PM - 6:00 PM

Tuesday

9:00 AM - 12:00 PM

2:00 PM - 6:00 PM

Wednesday

9:00 AM - 12:00 PM

2:00 PM - 6:00 PM

Thursday

9:00 AM - 12:00 PM

2:00 PM - 6:00 PM

Friday

9:00 AM - 12:00 PM

2:00 PM - 6:00 PM
Monday

9:00 AM - 12:00 PM

2:00 PM - 6:00 PM

Tuesday

9:00 AM - 12:00 PM

2:00 PM - 6:00 PM

Wednesday

9:00 AM - 12:00 PM

2:00 PM - 6:00 PM

Thursday

9:00 AM - 12:00 PM

2:00 PM - 6:00 PM

Friday

9:00 AM - 12:00 PM

2:00 PM - 6:00 PM
Tuesday

8:30 AM - 7:30 PM

Wednesday

8:30 AM - 7:30 PM

Thursday

8:30 AM - 7:30 PM

Saturday

8:30 AM - 7:30 PM
❄️ Winter season: December 2nd, 2023 to May 5th, 2024